You will see readings assigned to your courses automatically.  You can search for readings, get notifications and save your favourites. Click on the course or specific reading to find out more.  Log in to the Course Readings site with your Western username and password.
Click on "View this item" to see a digital copy of a reading (if available). If not, the screen also provides information on the item and where to find it. 
If your Course Reading is not available electronically:
Take note of the library Location, Call Number and Availability (Currently) from the Course Item screen above. You'll need this information to find it on the Course Reserves shelves or to request it from library staff.
TIP: Most reserve materials are available for short periods – such as 2 hours or 1 day.
Complete your readings early to avoid competing with other students at the last minute.
Some course readings may be available at the Book Store at Western.
Check for items not showing in your course list yet:
To check for items before they've become activated in Course Readings (prior to the start of the course), or readings in other sections of your course, or courses you're not registered in, you can also search Course Reserves using the library Catalogue.
Click "CATALOGUE" on the library website www.lib.uwo.ca

Then click the Course Reserves tab: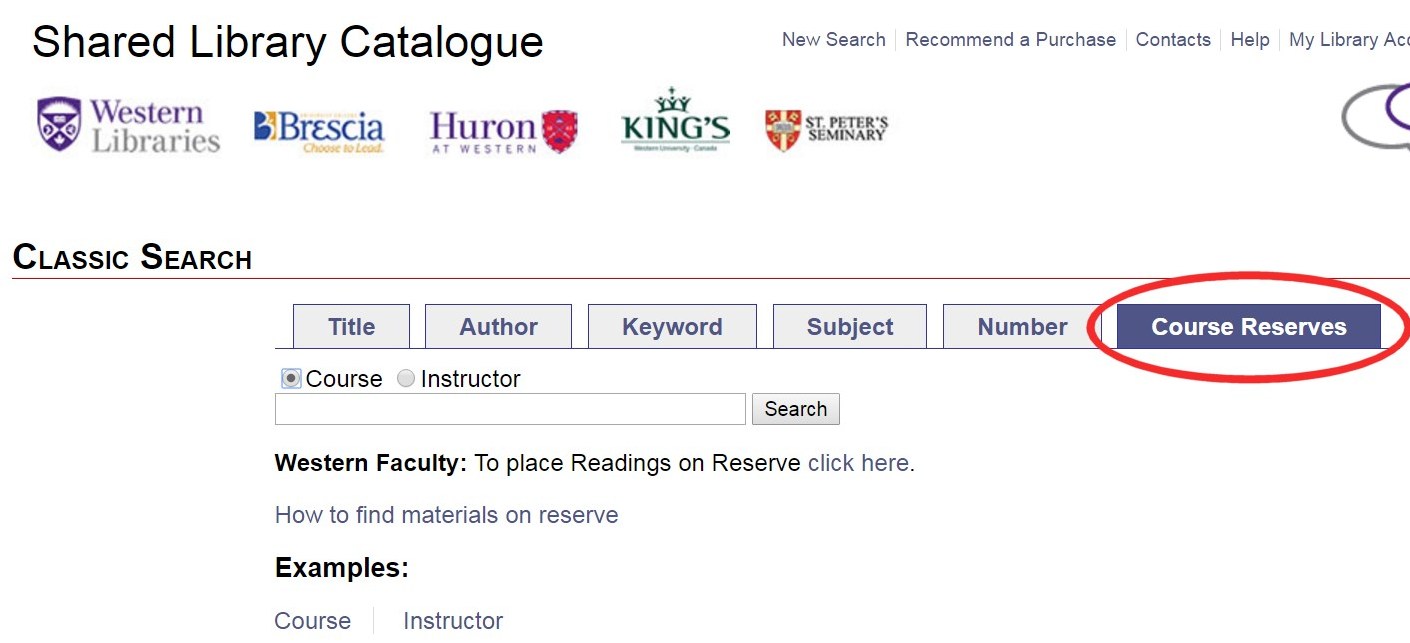 Search for the item by Course or Instructor. When the item is displayed, you'll need the call number and the library / location code to find it on the shelf:
If the item you're looking for doesn't have a call #, you can likely access it electronically at the link indicated in the Catalogue.
In General
Please pay careful attention to the loan period (fines are higher for reserve items). 
You can use the self checkout machines in some libraries or check out the item at the Circulation Desk.
Be sure to note the availability, because it may already be signed out. If so, the due date is provided to let you know when it is expected back in the library.
Keep track of the call number so you won't have to look it up the next time.
Don't forget - other students need these readings too, so please return before the due date if you're finished with it.
If you have any questions about course reserves, just ask the staff at the library.