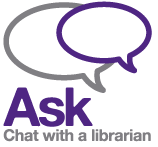 Explore the Libraries
In Weldon Atrium Dec 5 - 16, Monday - Friday from 10am - 4pm, the Wellness Education Centre will provide opportunities for students to de-stress during exams.
Do you need help figuring out where to start for your paper? Our Research Guides area is a great tool to direct you towards the core resources in a particular field of study.
Taylor and Weldon Libraries will both have extended hours during exams. To ensure a safe study environment, Western identification (i.e. WesternONE card) IS REQUIRED to enter both Weldon and Taylor Libraries after 9 pm during extended hours.