Digital Bookplates offer you a distinctive opportunity to honour or remember people who are special in your life. They make a great gift for family members, colleagues, new graduates, employees, friends, and mentors. Your gift demonstrates your commitment to Western Libraries while celebrating others' achievements and milestones. It is the perfect way to honour or remember someone who loves books, learning and academic advancement. You can also create a bookplate for yourself.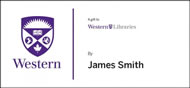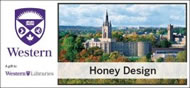 A Digital Bookplate at Western Libraries is an attractive digital crest, permanently linked to print and electronic book titles in Western Libraries' online catalogue. Digital Bookplates bear the name of the individual being honoured or remembered, as well as the name of the thoughtful donor. Specially designed bookplates are available at higher levels of sponsorship.
We are pleased to recognize gifts to the library through digital bookplates. Your support strengthens our collections, develops new teaching and learning spaces for students and researchers, and helps us deliver innovative services to all our users.