Christy Sich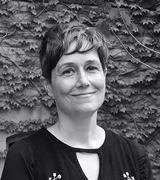 Teaching and Learning Librarian
Specialties
Teaching and Learning
Social Sciences
Professional Biography
I am a Teaching and Learning Librarian for Business and the Social Sciences. I've been an academic librarian for 20 years. Previously, I worked at the University of Saskatchewan and the University of Waterloo before arriving here at Western, where I have been the longest. I enjoy partnering with faculty to create information literacy lessons that help students succeed at their assignments and in their courses.
Education
BA, English, Wilfrid Laurier University
MLIS, Western University
Teaching Philosophy
I approach teaching with optimism, humility, and wonder, and I use story to create engaging and transformative learning experiences. I want to set students up for success by creating a positive atmosphere and I use humour to achieve this. Transformative learning experiences occur when ideas and opinions are challenged, and so I like to present different angles to problems and make space for all voices to participate and be heard because everyone has something to offer.