HathiTrust emergency access service rolling out, starting January 18
Published on January 13, 2021
As announced in December 2020, Western Libraries is rolling out the HathiTrust Emergency Temporary Access Service (HathiTrust ETAS). This emergency service provides digital access to more than 760,000 print volumes in our collections at a time when access to print collections is disrupted, and students and faculty are mainly working remotely due to COVID-19 restrictions.
When searching through the library catalogue, if a text is available through HathiTrust ETAS, the record will display a link to access the digitized volume via the temporary service. In compliance with copyright law, books available through HathiTrust ETAS are read-only and the print version will not be available through Western Libraries' no-contact pickup service after January 18.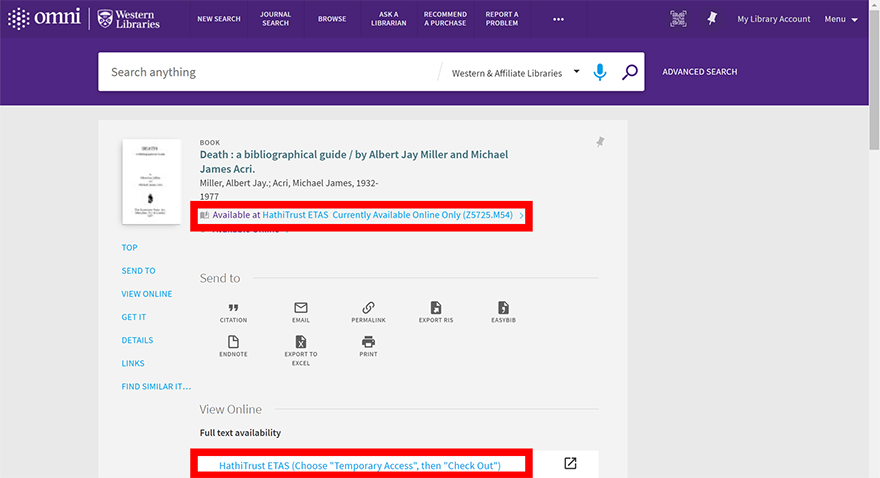 "The majority of Western's community are working remotely given the ongoing pandemic and the governmental response to curb its spread," explains Harriet Rykse, Western Libraries' associate chief librarian of content. "By implementing HathiTrust ETAS, we can provide access to materials for the greatest number of people."
The emergency service will continue to the end of winter term and Western Libraries will reassess the provision of HathiTrust ETAS for future terms should the pandemic continue to limit university on-site access. An opportunity to share user feedback will be an element of this evaluation, in part through the User Participation Lab. Individuals interested in assisting with HathiTrust ETAS assessment can sign up to be a User Lab member.
Have questions about HathiTrust ETAS and Western Libraries? Email library@uwo.ca and let us know.