Dr. Richard Maurice Bucke, 1877-1902
Superintendents | Young Adventurer | Medical Student and Practitioner
Alienist and Administrator | Man of Letters | Philosopher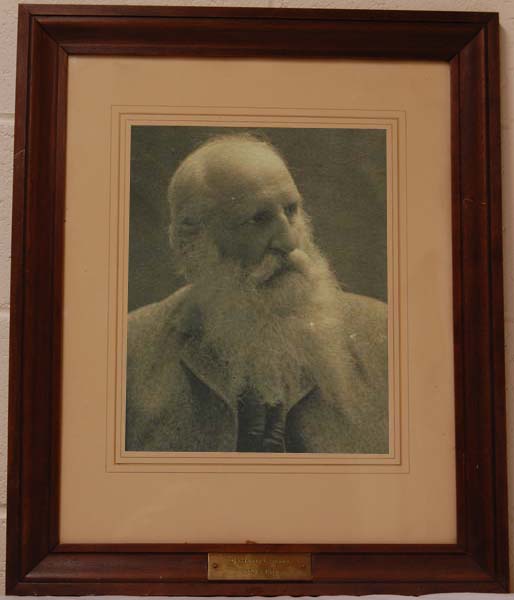 Dr. Richard M. Bucke, circa 1890. J.J. Talman Regional Collection, Western Archives, RC-33.
1 | 2 | 3
Dr. Richard Maurice Bucke's tenure as Medical Superintendent at the London Asylum for the Insane began in 1877 following the death of Dr. Henry Landor. He served in this capacity for a quarter of a century, longer than any other superintendent in the history of the LAI.
Dr. Bucke continued Dr. Landor's treatment approach of moral therapy. He believed that treating insanity meant taking care of the entire physical health of the patient. To that end, he emphasized the importance of routine, a sound diet, and participation in work, recreational, and social activities as a way of engaging patient interests. He also believed that religion played an important part in patient care, and was instrumental in having a chapel built at the LAI.
Additionally, Dr. Bucke came to adopt a philosophy of non-restraint, based on the observation, expressed in his 1879 Annual Report, that "the use of restraint makes restraint necessary." His initiation of an open door policy in 1882 also gave nearly 200 patients in the main asylum building the freedom to access the LAI's well-kept grounds. For Dr. Bucke, redirecting the patients' energies into constructive activities, especially those of a work nature, was important. It made reliance on restraint or seclusion no longer necessary.
As Medical Superintendent, Dr. Bucke also fulfilled other professional duties. He was a charter member of the Royal Society of Canada as well as Professor of Nervous and Mental Diseases at Western University in London, Ontario, whose Medical School he helped to found in 1882. He was also elected President of the Psychological Section of the British Medical Association in 1897, and, a year later, was named President of the American Medico-Psychological Association.
Beyond his professional interests, Dr. Bucke was also deeply drawn to literature and philosophy, and wrote extensively on these topics. His personal life was characterized by adventure and intellectual growth, as well as a life-changing friendship with American poet, Walt Whitman.