Asylum Design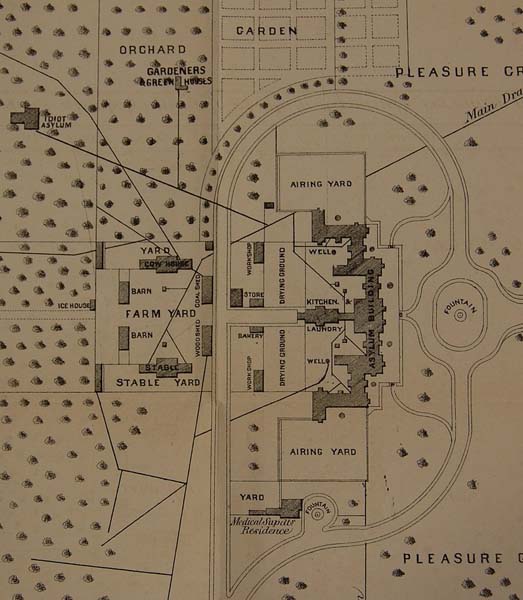 This early plan of the Asylum shows the large amount of land for farming, orchards and "pleasure grounds". The "Idiot Branch" is visible in the upper-left corner and the superintendent's residence can be found just below the main building. London Room, London Public Library
1 | 2
Before the Asylum | Asylum Design | The Kirkbride Plan | Challenges
The same architects responsible for Ontario's prisons initially designed the first purpose-built asylums, and they tended to resemble each other. People with mental illness were even housed in a Toronto jail for 10 years while the Toronto Asylum was being built. As asylums developed, their design moved away from that of prisons, although both institutions remained under the same provincial inspector. Ideally, asylums were supposed to be places of refuge, where patients were segregated from the outside world for their own benefit. In reality, these large, provincial-run institutions remained linked to prisons in the public mind.
Kivas Tully, the architect of the London Asylum for the Insane had assisted in building the Toronto Asylum and later designed the asylums in Hamilton and Brockville. Though built on a tight budget, the LAI grew to be an imposing structure surrounded by over 200 acres of land. The main building, completed between 1869 and 1870, was built in the Gothic revival style and used the traditional yellow brick of southern Ontario. The Asylum provided 500 beds, making it the second largest asylum in the province. By 1876, Toronto was still the largest asylum with 631 patients, followed by London with 583 patients, Kingston with 337 patients and Hamilton with 202 patients. By 1884 the LAI's population had grown to 904 patients, compared to Toronto's 703 patients, which demonstrates the LAI's rapid growth rate.
The Asylum was designed to be self-sufficient as it was located outside London city limits. It included buildings such as a bakery, a mortuary, a barn, and workshops when it opened in 1870. Many of the Asylum's staff members lived on the grounds until the mid-20th century. A skating rink was built for the enjoyment of both patients and employees in 1910. By 1914, a clubhouse was being planned for employees where amenities such as a swimming pool, a billiards room, and a bowling alley would be offered. Over 50 nurses received their own residence when the West Cottage was renovated in the 1920s. The Superintendent lived on the grounds as well, reinforcing his position as patriarch of the institution. His house featured a large veranda and was located on a quiet cul-de-sac close to the main building. His courtyard was also originally designed with a fountain, demonstrating the superintendents' luxurious surroundings.