The Pressing Need for Asylums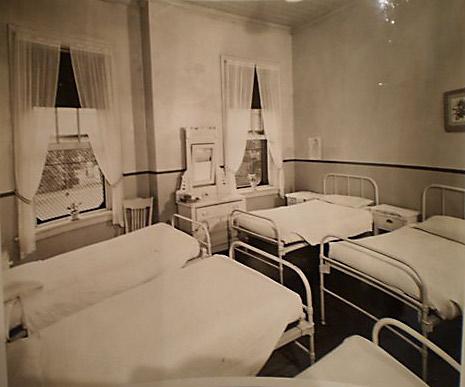 Multiple beds placed in close proximity show signs of overcrowding in the West Wing of the exam building, on the second floor, south side, at the LAI. RMHCL
1 | 2
Family | The Pressing Need for Asylums | A Family in Crisis . . . why Commital?
The London Asylum was situated on vast acres of farmland and instantly filled its 500 bed capacity upon opening. This demand was characteristic of the majority of asylums across the Western world, as there was no shortage of people looking for the structured care institutions promised to provide.
The Earlswood Asylum in England was an example of a charitable organization with a strict mandate of educating children who faced developmental challenges. It was filled to its 400 bed capacity a mere three years after opening, despite ongoing construction and a very strict admissions policy that accepted only children between the ages of 8 and 18. The London Asylum encompassed a much broader portion of society. As a public institution, its doors were required to remain open to accommodate a wide range of potential patients.
The London Asylum faced a challenge that affected its entire operational system. While reaching capacity so quickly validated the necessity of the asylum, the volume of patients soon gave way to overcrowding. Up to six beds were placed in rooms which were originally designed to hold two. This often overloaded the asylum system and made promises of personalized care very difficult to fulfill, despite the best intentions of a dedicated staff.
Although demand may have been met with an inadequate amount of space, it shows that government institutions were attempting to respond to families in crisis. In addition to the reform of the criminal justice system to include the medical diagnosis of criminal insanity, which brought more patients to the asylum's doors, much of the overcrowding was due to the challenges created by the increasingly industrial character of society, and the urban movement which accompanied it.