Global GIS Data - 2001
Global GIS provides extensive vector and raster coverage of all of the continents on the planet except for Antarctica. The set of 7 CD-ROMs makes a complete atlas of global data compiled from USGS and other data sources at a nominal scale of 1:1,000,000 and is intended as a regional-scale reference and analytical tool by educators, government officials, researchers, industry, and the general public.  More information can be found at the Global GIS website.
Coordinate system: Geographic (Decimal Degrees) -  NAD 83
Source format: ESRI Shapefiles and TIFF Raster Grids (ArcGIS/ArcView)
Released: September 2002
Library Call Number: GD.WD.02 (World)
Available Themes / Layers
Country Political Boundaries, Digital Shaded Relief Map, Elevation, Slope, Hydrology (Rivers, Streams, Springs, Wells), Cities and Towns, Airfields, Roads, Railroads, Utility Lines, Population Density, Geology, Ecological Regions, Historical Seismicity (Epicenters), Volcanoes, Ore Deposits, Oil and Gas Fields, Climate Data, Landcover, Vegetation Index, and Lights at Night.
Restrictions on Access
This resource is available to University of Western Ontario students, faculty and staff for academic, research or personal reasons.   Patrons will be required to present a valid UWO ID card and sign a release form when requesting the data. Data must be requested in person at the Map and Data Centre Reference desk.
Data Manipulation / Usage
The Map and Data Centre has 2 GIS workstations equipped with ArcGIS 10.0 and other software to explore/manipulate the data.  UWO users may also copy requested resources to a data storage device (ex. USB flash drive, CD-R) for research or teaching use outside of the library. The AGI or USGS should be cited in any maps or graphics generated.
Sample View of the Data
Population Density of Moscow and Surrounding Area -  Russia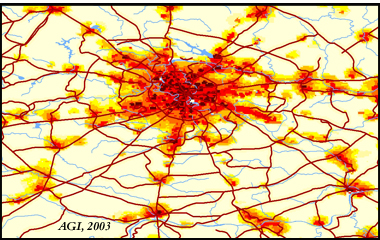 Sample Citation
Global GIS [computer file]. Alexandria, Virginia: American Geological Institute, 2003.