Northwest Territories, Canada: Digital Atlas
Northwest Territories, Canada: Digital Atlas
The 2002 Digital Atlas of the Northwest Territories contains a large amount of vector GIS data including topographic, hydrologic and management information.  The file size of the entire vector dataset is approximately 495mb.
Coordinate system: Geographic (Decimal Degrees) -  NAD 83.
Source format: ESRI Shapefiles and TIFF Raster Grids (ArcGIS/ArcView)
Released: September 2002.
Library Call Number: GD.CA.30 (Provincial)
Available Themes / Layers
Annual Mean Precipitation, Annual Mean Snowfall, Annual Mean Temperature, Archaeological Site Density, Canadian Borders, Communities, Contours (1:1m scale), Ecoregions, Ecozones, Fire History, Geology (Bedrock and Surficial), Inuvialuit Community Conservation Plans, Land Cover, Land Use Permits and Dispositions, Landscape Units (Represented and Unrepresented), Minerals (claims, Leases, Potential, Showings, Permits), Northwest Territories Borders, Oil and Gas (Potential, Rights, Pipelines), Parks and Protected Areas, Rivers, Roads, Sahtu Heritage Places, Sites and Routes, Settled Land Claims, Soil Landscapes, Status of Forest Inventory Projects, Timber Productive Forest, Tourism Areas, Unsettled Land Claims, Values at Risk, Vegetation, Waterbodies, Watersheds, and Wildlife Areas.
Restrictions on Access
This resource is available to University of Western Ontario students, faculty and staff for academic, research or personal reasons.   Patrons will be required to present a valid UWO ID card and sign a release form when requesting the data. Data must be requested in person at the Map and Data Centre Reference desk.
Data Manipulation / Usage
The Map and Data Centre has 2 GIS workstations equipped with ArcGIS 10.0 and other software to explore/manipulate the data.  UWO users may also copy requested resources to a data storage device (ex. USB flash drive, CD-R) for research or teaching use outside of the library. World Wildlife Fund (WWF) Canada should be cited in any maps or graphics generated.
Sample View of the Data
Surficial Geology and Water Bodies in the Great Slave Lake Area, NWT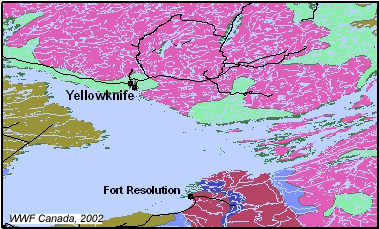 Sample Citation
Northwest Territories, Canada: Digital Atlas [computer file]. Toronto : World Wildlife Fund Canada, 2002.