The Faculty of Nursing at the Univeristy of Western Ontario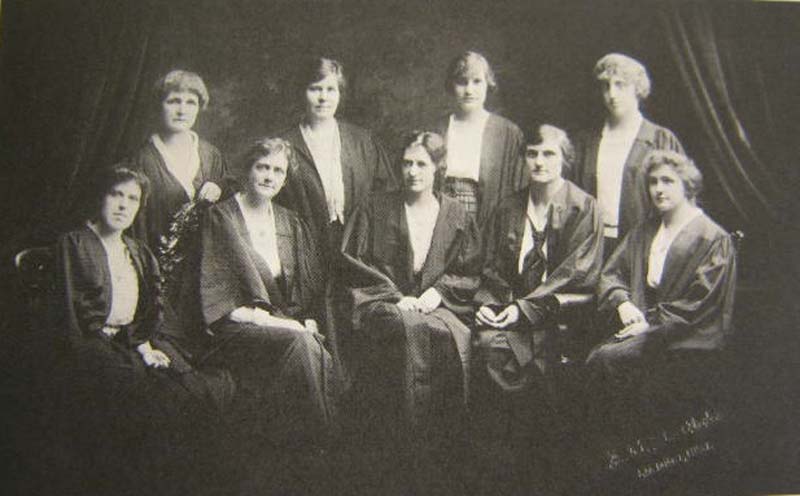 The first graduate class of nurses, 1922. Faculty of Nursing Fonds, Western Archives
1 | 2 | 3 | 4 | 5
Training School for Nurses | Application | Training | Graduation
Accommodation and Recreation | The Faculty of Nursing at UWO
Dr. George H. Stevenson, Medical Superintendent of the former LAI, was interested in the field of nursing. He was chairman of the Committee on Nursing of the American Psychiatric Association, and chaired a committee whose recommendations led to the establishment of the School (later Faculty) of Nursing at the University of Western Ontario (UWO). Dr. H. W. Hill, Director of the Institute of Public Health, established the Faculty of Public Health at the Western in 1917, and paid a special interest in training nurses.
Nursing programs at UWO was aimed at involving university in the education of nurses and nurse specialists. By offering graduate nurses from general hospitals with an additional course in public health, the programs fit these bedside nurses for greater demands in health care. In 1920, two one-year programs for the Certificate of Public Health Nurse and the Diploma of Public Health began, and the Bachelor of Science in nursing degree started in 1923. In 1926, the first fourteen nurses in the field of psychiatry graduated from UWO.
The former LAI and the Faculty of Nursing at UWO developed a co-operation program in the nursing education. That Superintendents at the former LAI were appointed Associate Professor or Professor of Psychiatry at the Western became a tradition. For example, Dr. William J. Robinson was appointed Associate Professor of Psychiatry in the 1914-1915 sessions, his successors Dr. Fulton S. Vrooman from 1934 to 1935 and Dr. Stevenson from 1935 to 1936. After the Faculty of Public Health was establishment, Dr. Stevenson was also appointed as the Professor and Director of Public Health. Internship opportunities were also offered by the Asylum for the Western nurses in their last year.