Task Force on Open Access and Scholarly Communication
Western's scholars and researchers would benefit from engaging in dialogue about open access (OA) and scholarly communication and from exploring how the community might best advance one of the University's core missions: the dissemination of knowledge for the benefit of society. The Task Force on Open Access and Scholarly Communication, made up of faculty, librarians, students, staff, and administrators, is tasked by the Provost to discuss a broad array of issues surrounding OA and scholarly communication and to recommend key matters for consideration by Western's Senate.
Open Access Explained! (LT subtitles) from Emilija on Vimeo.
Why it Matters
Scholarly communication refers to "the system through which research and other scholarly writings are created, evaluated for quality, disseminated to the scholarly community, and preserved for future use."
There are many issues of import related to scholarly communication including evolving models of publishing and dissemination such as:
Open access;
Intellectual property and copyright;
The economics of scholarly publishing;
Access to scholarly information.
These issues have significant implications for higher education and research.
Across the globe, funding agencies have adopted OA policies; the Canadian Tri-Agency Open Access Policy on Publications was instituted in 2015. Costs associated with commercial scholarly publications licenses and rising APCs are unsustainable. Open access initiatives in Europe such as Plan S and OA2020 are changing the scholarly communication landscape, as are principle-based negotiations in Norway, Germany (Projekt DEAL), and at the University of California. These and other scholarly communication activities and initiatives take place in an environment that is complex and rapidly evolving, with political, economic, and social dimensions 
The Task Force on Open Access and Scholarly Communication aims to:
Gather information and review the broader context for open access and scholarly publishing;
Review relevant policies and practices at Western and other institutions;
Consult broadly with the campus community to inform the work of the task force;
Provide recommendations to Senate, on the development of a Western commitment tothe advancement of open access and sustainable scholarly communications and publishing models.
Catherine Steeves - Vice-Provost & Chief Librarian Chair of the Task Force
Lisa Cechetto - Appointed by the Vice-President (Research)
Jacquie Burkell - Associate Dean of Research & Associate Professor, FIMS
Katrina Pollock - Faculty of Education
Mark Daley - Faculty of Science, Special Advisor to the President (Data Strategy)
Sam Trosow - Faculty of Law in Fall and Faculty of Information and Media Studies
David Litchfield - Vice Dean, Research & Innovation at Schulich
Allan Pero - Director of the Centre for the Study of Theory and Criticism
Joyla Furlano - SOGS Member
Kristin Hoffmann - UWOFA Member, Research and Scholarly Communication Librarian
Danny Chang - USC Member
October 8th 10 am – 12 pm
October 22nd 9 am – 11 am
November 21st 9 am – 11 am
Report to Provost due November 29th
Further Reading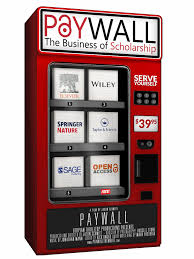 Open Access Documentary film: Paywall: The Business of Scholarship
Questions?
Contact Catherine Steeves, Vice-Provost & Chief Librarian