The Labatt Brewing Company Collection
The Labatt Brewing Company Collection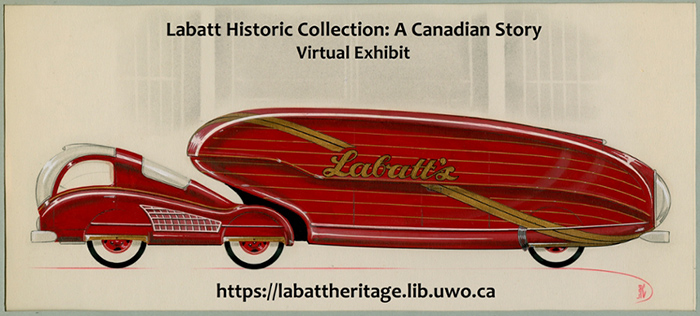 The Labatt Brewing Company Collection, which was donated to The University of Western Ontario Archives (Western Archives) in 2011, is one of the largest corporate archives in the country. Contained in over 2,600 boxes and spanning the period 1832 to 2009, it comprises some 450 linear metres of textual documents, more than 45,000 photographs and illustrations, and almost 15,000 audio-visual items.
As it is anticipated that there will be a great deal of interest in the contents of the Labatt Collection, the following information is provided for potential researchers.
The Nature of the Collection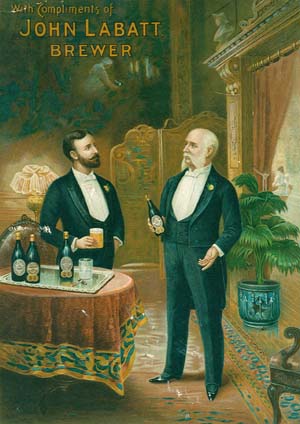 The Labatt Brewing Company Collection was acquired by Western Archives to support research and teaching by faculty members, students, staff, visiting academics, and members of the public.  As noted above, it contains various historic documents, photographs, and audio and sound recordings.
Unlike items in a museum, the contents of the Labatt Collection are not on public display, and unlike items in a public library, they cannot be borrowed.  Rather, they are preserved in Western's Archives and Research Collections (ARCC), which is a state of the art archival repository.  Specific materials from the Labatt Collection are retrieved in response to research requests and are consulted under supervision in a secure reading room in the ARCC.
For those who are interested in seeing physical objects relating to the history of Labatt, Museum London was the recipient of the Labatt Material Culture Collection that contains brewery artifacts and collectibles as well as original art.
Finding Aids
Before the Collection was donated, Labatt prepared a database to permit retrieval of specific items for internal purposes. Although a copy was provided to Western Archives, the database was not designed to support archival research and it contains some potentially sensitive personal or other confidential information. As a result, while the database is available to Western Archives staff to assist in identifying and retrieving certain items, it is not publicly accessible.
Western Archives is in the process of preparing archival finding aids that will provide the detailed narrative description and scope and content analysis necessary to support effective research use of the Collection.  Realistically this process will take several years to complete. This overview of the entire Collection is available online.  More detailed descriptions are uploaded to the Archives Holding Database as they are processed.
Detail from the calendar
Access To The Collection
At the time of donation the contents of the Labatt Collection were divided into two categories: material to which access can be granted immediately on an unrestricted basis and material that is restricted due to the presence of potentially sensitive personal or other confidential information (see below).
All researchers, including members of the public, can request access to and consult unrestricted material from the Labatt Collection in the reading room of the ARCC during regular hours of opening.
In practice, it is strongly recommended that before visiting the ARCC all potential researchers contact Western Archives to outline their research interests. It is recommended that the initial contact be made via email (arccserv@uwo.ca), providing as much detail as possible regarding the proposed area of research and the types of materials of potential interest. This will give Western Archives staff the opportunity to determine if the Collection contains relevant materials and, if so, to arrange to retrieve them (subject to confidentiality provisions, see below).
Depending on the nature and scope of the research project, the best approach is for researchers to engage Western Archives staff in an ongoing dialogue to help identify particular interests and relevant records.
Confidential Information
None of the contents of the Labatt Collection are completely closed to researchers. Instead, certain records have been identified as containing potentially sensitive personal or other confidential information and, as a result, are subject to review.
To obtain access to records identified as restricted, researchers must submit a written request to Western Archives. The request should outline the nature and scope of the research project and, to the extent possible given the current lack of detailed finding aids, identify what types of records are being requested and how the information is to be used (e.g., undergraduate research paper, academic journal article, family history). Western Archives staff can assist in preparing the request.
Once received, the University Archivist will review the request and the relevant records and, after consultation with Labatt, make a decision on access. Access for the purposes of research and teaching will not be unreasonably withheld, although those granted access may be asked to enter into an agreement with Western that stipulates terms and conditions regarding quotation, publication, etc.
The above review process applies to records containing personal information about an identifiable individual for a period of 100 years.  For records relating to litigation or containing trade secrets or confidential scientific, technical, commercial, financial, or labour relations information, the process will remain in effect for a period of 50 years.  For all other material it applies for period of 25 years.  

Please note that all of the aforementioned time periods are calculated from the date of the specific records at issue.  Until detailed finding aids are available Western Archives staff can assist researchers in determining which time period(s) apply to specific records.
More Information
For additional information about any aspect of the Labatt Brewing Company Collection please contact the Western Archives reading room at 519-661-4046 during regular hours of opening or email arccserv@uwo.ca.

Original Streamliner concept drawing No. 5 by Count Alexis de Sakhnoffsky, circa 1935