Visiting the Archives
The Reading Room is the public area in the Archives and Research Collections Centre (ARCC) where you may access our holdings and do your research.
Western Archives provides a wide range of services to support the University's goals for research and scholarship and teaching and learning, as well as for the management of its institutional records. Located in the Archives and Research Collections Centre (ARCC), the two major components of Western Archives are the University Archives, which include university and private archival holdings, and The James Alexander and Ellen Rea Benson Special Collections, which comprise antiquarian and rare books and local history monographs. In addition, Western Archives provides various records management services to support the administration and operation of the University and is responsible for maintaining a growing collection of low and medium use print materials that have been transferred to storage from the seven libraries on campus.
Before your visit, search our sources...
Get help with a reference question, or if you wish to see items from our holdings it is recommended that you make a request by email in advance of your visit. 
Pathfinders/guides:
Planning your visit...
The regular hours of opening are: Monday to Friday 10 am to 4:30 pm.
The Reading Room is closed each Saturday and Sunday, and on statutory holidays. Hours of opening are reduced from May to August, so please check the hours of opening before you visit.
You may wish to bring a pencil, a USB device and a camera.
You may wish to register for a PaperCut account to use the Print, Copy, Scan station
Visitors may obtain guest access to the internet for the day by presenting photo ID at any Western Libraries Service Desk. A temporary login & password will be provided and can be used with the guest computers in the Reading Room to access Western Libraries online resources.
If you are visiting from a participating post-secondary institution, you are eligible to access the eduroam wireless network using the credentials from your home institution.
We have adapters, chargers and sync cables to loan for most laptops, tablets and mobile devices.
Getting here: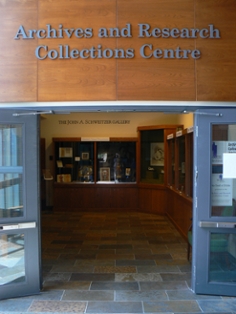 The entrance to the Archives is located inside The D.B. Weldon Library.

 Our address is:
The Archives and Research Collections Centre,
Western University

Weldon Library Room 140
1151 Richmond St

London ON Canada N6A 3K7
Each time you visit, registration is required.
As you enter the Reading Room, a staff member will greet you at the desk and ask for photo identification in order to register your visit. 
You will be asked to store bags, purses, backpacks etc. in the lockers we provide.
Expectations: 
If you need images or text reproduced, ask staff for advice on what can be copied and your options for reproduction.
You will need a PaperCut account to use the Print, Copy, Scan station.
There is no charge for scanning to a USB device or an email address.
Staff mediated scanning and digital photo reproduction services are available, charges will apply.
You will need to read the terms and conditions governing the use of photography in the Reading Room if you wish to take pictures. 
We have two microform readers available, one is enabled with a USB slot for your device.
Forms:
Questions:
Reading Room: 519 661 4046
Contact us by email.