Eldon House
The Harris Family The Harris Family Fonds Eldon House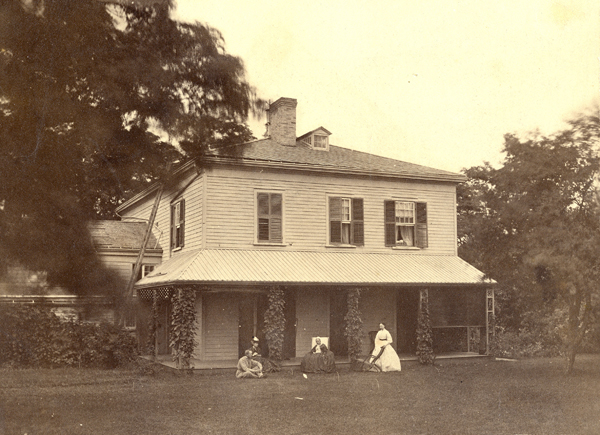 Eldon House, west lawn, c1875
From left: George and Teresa, Amelia (mother), and Sophia (Edward's wife)
Harris Family Fonds, RC#41003
Eldon House, located at 481 Ridout Street North, was built in 1834 for John Harris, Treasurer of the London District, and occupied by his family - his wife Amelia and their eight children; two more children were born in 1836 and 1839. It was first named Eldon Terrace, shortly thereafter changed to Eldon House.
After John's death in 1850, Amelia lived in the house until her death in 1882. For much of the 19th century, Eldon House was a hub of London social life, particularly during the years of the British Garrison (1838 - 1868). Four of John Harris's daughters married officers stationed in London.
Eldon House received a major expansion in the 1870s with the addition of a ballroom, a new kitchen, and expanded servants quarters.
Amelia (Milly) Harris, who died in December 1959, was the last family member to reside in the house. In January 1960, the house, its contents, and property were donated to the City of London by the children of Ronald Harris - Robin, George, and Lucy Little. Eldon House was opened as a museum in 1961. The property, which extended down the Thames River, was landscaped and eventually became Harris Park.
During 2009-10, Eldon House celebrated the 175th Anniversary of its construction and the 50th anniversary of its gift to the city. In 2011, Eldon House is recognizing its 50th anniversary as a Museum through ongoing programming.
Image Gallery