The Harris Family
The Harris Family The Harris Family Fonds Eldon House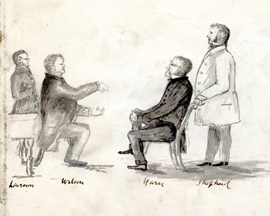 Sketch of Lawrence Laurason, Judge John Wilson, John Harris, and [?] Shepherd by Judge William Elliot, c1845.
William Elliot fonds, Western Archives
The first occupants of Eldon House, John Harris (1782-1850) and Amelia Harris (1798-1882), were married on June 28, 1815.
They farmed a property near Long Point until they moved to London in 1834 to occupy their substantial new residence, Eldon House, overlooking the forks of the Thames River, near the London District Court House. Of John and Amelia's 12 children, 10 survived to adulthood.
After brief service in the merchant marine, John Harris joined the Royal Navy in 1803. He served the War of 1812-14 as Master of the naval frigate, Prince Regent. After hostilities ended, he was involved with the survey of the Great Lakes. In April 1815, on an assignment to survey the north shore of Lake Erie, he met Amelia Ryerse, his future wife.
He was appointed as Treasurer of the London District in 1821 and was active in the local political scene until his death on August 25, 1850. During the Upper Canada Rebellion of 1837, he assisted in the destruction of the Caroline, an American ship docked at Niagara Falls, New York. Harris also was appointed as a member of a commission to review claims for losses during the Rebellion in the London District.
As patriarch of large family, he impacted four generations of descendants residing at Eldon House.
Image Gallery