The London Free Press Collection of Photographic Negatives
The London Free Press Collection of Photographic Negatives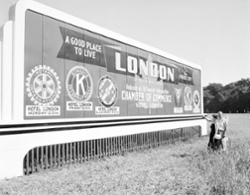 The London Free Press Collection of Photographic Negatives consists of approximately 1.6 million images dating primarily from 1936 to 1992, although some content dates as far back as the late nineteenth century. The majority of the collection consists of chronologically arranged negatives. These negatives were created and accumulated by staff photographers as they undertook their duties. These photographers worked out of London as well as several regional offices in Chatham, St. Thomas, Sarnia, Simcoe, Stratford, Wingham, and Woodstock. As a result, their work depicts events in both the city of London, and many nearby towns, villages, and rural communities. Occasionally, the photographers travelled beyond Southwestern Ontario to document regional, national, or international stories of local interest.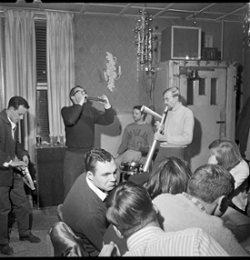 The chronological negatives are filed in envelopes that correspond to different events, both planned and unplanned, that were covered by the photographers over the course of a given year. Approximately one fifth of these photographs were published in daily issues of the London Free Press. There are listings of negative envelopes available for each year between 1936 and 1992. Listings, as well as some digital scans of individual negatives, dating from 1936 to 1955 are in the process of being made available via our online holdings database. Listings for the years after 1956 are available below.
Apart from the chronological series, another major component of the Collection is a series of portrait negatives, which is arranged alphabetically by last name. This series covers roughly the same time period as the chronological negatives. This listing of negatives is also available below.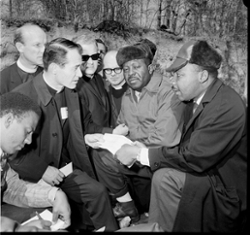 Please note the chronological listings were originally created by staff of the London Free Press at the time the images were created. The language used in some descriptions reflects the standards and attitudes of the time in which it was written. Despite this dated language, Western Archives is making the listings available in order to improve access to this important collection.
Viewing and Scanning Negatives
Use these listings or our online holdings database to identify images you're interested in. Virtual service will be provided where possible — contact us. Reproduction and service charges apply to all orders for copies.
Chronological Listings
Photographs
Top: London Chamber of Commerce Billboard  "Mr. and Mrs. A.G. Caring of Jackson, Michigan inspect the latest signboard unveiled by the Chamber of Commerce at the Highbury Avenue entrance to the city." July 8, 1948. AFC 177-S3-SS13-F155
Middle: Nihilist Spasm Band at York Hotel. December 19, 1966. AFC 177-S1-SS14-F6899
Bottom: Four London, Ontario clergymen (Revs. McKibbon, Darling, Berryman, and Passmore) give $2000 gift to Martin Luther King, on march near Selma, Alabama. March 21, 1965. AFC 177-S1-SS1-F1700