New Acquisitions
March 2019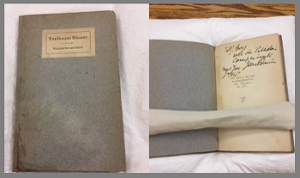 The Golden Helmet, W.B.Yeats.  New York, John Quinn, 1908.  First edition, numbered 25 of 50 copies, printed by John Quinn.  Inscribed by John Quinn to Yeats's friend Frederick James Gregg. 
From Peter Harrington, London: The Golden Helmet is the rare first appearance, here in prose, of the Cuchullain play that would eventually be reworked into verse as The Green Helmet and published in The Green Helmet and Other Poems.  The play was first conceived in 1907, in the aftermath of the Abbey Theatre riots over Synge's Playboy of the Western World, and was produced at the Abbey Theatre on 19 March 1908, where Yeats himself took a curtain call.  The only other printing of the text was in the later 1908 Collected Works in Verse and Prose.
June 2018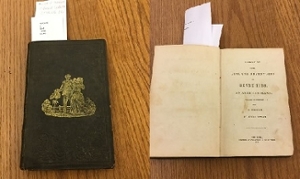 Our Special Collections contain a number of early editions on slavery, abolition, and the Underground Railroad in Canada.  Our newest acquisition to the James Alexander and Ellen Rea Benson Special Collections is a very rare first edition of "Narrative of the Life and Adventures of Henry Bibb an American Slave, Written by Himself" (1849).  After escaping from Kentucky to Detroit in 1842, and then migrating to Upper Canada after the Fugitive Slave Act of 1850, Bibb published his book and then started the first black newspaper in Canada, The Voice of the Fugitive.  You can read more about the life of Henry Bibb in the Dictionary of Canadian Biography, and you can visit the Archives and Research Collections Centre at Western University to examine the first edition of his book.
Debbie Meert-Williston, Special Collections Librarian, dmeertwi@uwo.ca