Archives and Research Collections Centre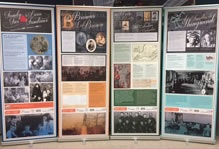 Family Ties: Ontario Turns 150 is a travelling exhibit from the Archives of Ontario that explores the Era of Confederation through four families from different regions in Ontario. The display will be shown at Taylor Library (Feb 7-23), Business Library (Feb 24-Mar 9) and Weldon Library (Mar 10-30).  
See Canada 150 for more events on campus to celebrate Canada's 150th anniversary.

Photo Essay: Photographing the HDM by MJ Idzerda
Read more about these highlighted photographs from the Archives